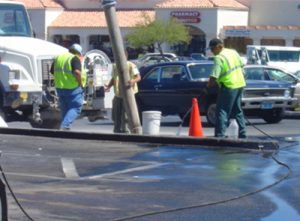 The Westmark Group's (Westmark) clients rely on Westmark for services ranging from site assessments for spill response and due diligence purposes to remedial actions and microbial investigations, as well as lead-based paint and asbestos surveys. Westmark assists our commercial clients in their efforts to obtain regulatory closure and maintain compliance while controlling overall project costs.
Westmark performs Phase I Environmental Site Assessments (ESAs) on behalf of our commercial clients to assist in meeting the due diligence requirements under the US Environmental Protection Agency's (EPA) All Appropriate Inquiry Final Rule, issued in November 2005. Westmark completes Phase I ESAs in accordance with the American Society for Testing and Materials (ASTM) Standard E 1527-05.
Westmark completes site investigations to determine the nature and extent of contamination and coordinates with regulatory agencies to design and conduct remedial activities as well as ongoing monitoring of soil and groundwater to obtain site closure for our commercial clients. By working closely with regulatory agencies and utilizing the most cost-effective remedial solutions available, Westmark is able to help our commercial clients control costs while still effectively addressing contamination.
Westmark's team of highly trained and licensed professionals conducts a variety of industrial hygiene investigations for our commercial clients. Westmark has conducted microbial investigations, including visual assessment, sampling and preparation of recommendations to assist clients in addressing microbial (mold) concerns. Westmark conducts lead-based paint investigations, including identification, bulk sampling, and preparation of recommendations. Westmark performs asbestos sampling, including air sampling to determine worker exposure and visual surveys and bulk sampling for potential asbestos-containing building materials in accordance with Occupational Safety and Health Administration (OSHA) and EPA requirements. Westmark also conducts post-abatement clearance confirmation.
Check our other categories
Are you ready to get started?